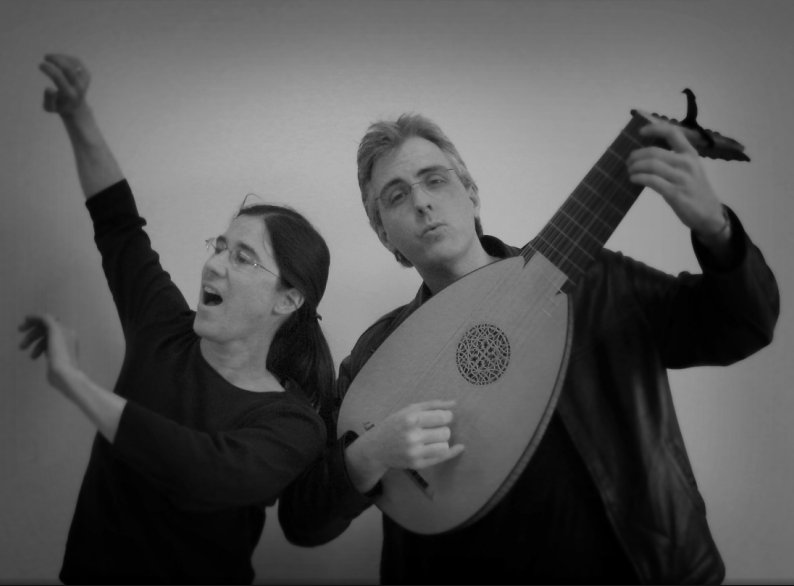 This CD is a brief collection of songs that we have been performing over the past year. It was recorded in a small house somewhere near Woodstock, Vermont. We both love John Dowland's music and so the recording flowed very easily. We recorded live using DigiDesign ProTools and the final edits were minimal.
We would like to thank everyone who has helped us do our thing over the past year, especially our spouses who have been very supportive. We'd also like to thank all those who came to a show, we hope you enjoyed it!
Marjorie Morgan (Voice)
Christopher Schaub (Voice, Lute)
Marjorie Morgan is a Boston-area choreographer, composer, dancer and vocalist who loves combining these various elements to create original performance works. She is a believer in live art and the constructive energy that emanates from creating, rehearsing and performing new works. Marjorie is a fan of cross-training of all kinds: artistic, athletic, spiritual, etc.
Christopher Schaub is a percussionist, singer and lute player. He is interested in blending American Roots music with Renaissance lute songs. Christopher plays lutes and vihuelas by Cezar Mateus.
Tracks
1. Come Again Sweet Love Doth Now Invite
2. Now 0 Now I Needs Must Part
3. Fine Knacks For Ladies
4. If My Complaints Could Passions Move
5. Sir John Smith's Almaine
6. Time Stands Still